The Katy Trail & Rock Island Spur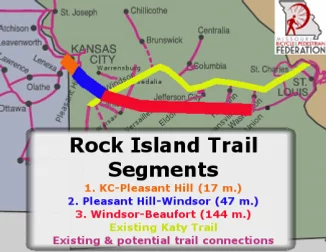 Rails to Trails... Windsor, Missouri, mile marker 248 on the Katy Trail, is the only place where the Katy Trail and the Rock Island Spur of the Katy Trail connect. We welcome visitors from all over the world that enjoy using these beautiful trails. Travelers coming in on either trail will find a comfortable place to rest for the night and a community that thoroughly enjoys and appreciates them being here. The Katy Trail, built on the former corridor of the Missouri-Kansas-Texas Railroad (MKT or Katy), is 240 miles long.
The Katy is in the Rail-Trail Hall of Fame, it's a part of the American Discovery Trail and is designated a Millennium Legacy Trail. The National Trails System Act of 1968 made the conversion of right-of-way to a trail possible and in 1982, the city of Columbia, MO opened the MKT trail on an abandoned spur of the Katy as one of the first rails-to trails pilot projects in the United States. The section from Sedalia to Clinton was opened in 1999 and the rest, as they say, is history.
Equestrians may ride the Katy Trail between Sedalia and Clinton. Equestrians are also permitted on the Rock Island Spur beginning at the Purvis Road entrance near Pleasant Hill all the way into Windsor.
A Bit of History... Windsor commerce and industry grew rapidly when the railroads came. The Tebo & Neosho Railroad Co. pursued construction from Sedalia to Fort Scott, Kansas, through Windsor in 1865. By 1870, little more than road grading had been accomplished. That same year, the Missouri, Kansas and Texas Railway Co. (MKT or Katy) absorbed the operation and built the railroad into Windsor, opening it on June 30, 1870.
Through the years, Katy shipped a diversity of Windsor products, from brooms and buttons to chickens and cheese. At the same time, trains imported products from around the world and connected its citizens to the technology of the day. The Chicago, Rock Island & Pacific, built from St. Louis to Kansas City, arrived in Windsor in 1904.
The Katy Railroad hit hard times in the 1980s, finding itself overbuilt and hard-pressed to compete with larger railroads and modern tracking. Katy filed with the Interstate Commerce Commission in August 1986 to discontinue use of its rail between Sedalia and Machens. Two years later, the company merged into the Union Pacific Railroad.
The Union Pacific donated the rail corridor between Sedalia and Clinton to the Missouri Department of Natural Resources in December 1991. The last train ever to leave Windsor pulled away in 1991. The final Rock Island train left over a decade earlier. Though the whistle remains silent, visitors still arrive in Windsor along the age-old corridor, just not on a train. We're always glad to see them!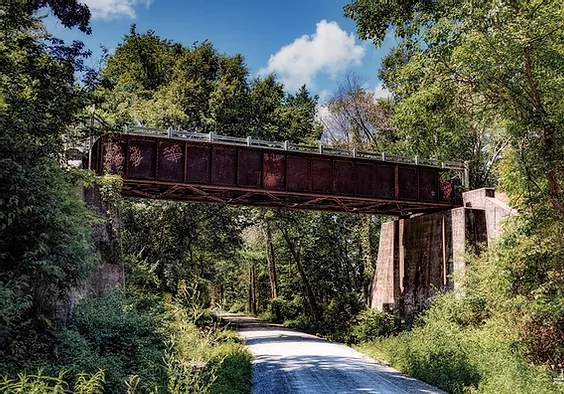 Links to some great resources!