Our Caboose - The Spirit of '76
Windsor is very proud of our caboose that sits at the Katy Trail Head in Windsor and we love to share the story of how we came by that caboose. The following is an excerpt from an article written for the Windsor Review, published after the caboose was repainted by our sister squadron from Whiteman Air Force Base.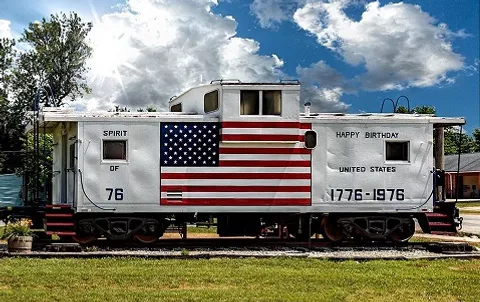 The "Spirit of 76" Caboose came to Windsor by way of a city-wide campaign in 1990 to memorialize the feel and importance of the Katy Railroad through Windsor. Significant to the acquisition of the old caboose was resident, and retired Katy line employee, Q.W. Schroer. His 42 years with Katy Railroad carried some weight, and soon he and other residents began to work on restoring the old, canned crumb box to its splendor.
According to a Kansas City Star article (dated Oct. 28, 1990), the caboose was set on a section of track on the east side of town where the old depot stood. "...eventually a Katy caboose, painted green and yellow and streaked here and there with rust, arrived," read the article. "...nobody would have said a thing if the folks here had just sort of touched it up and left it the way it arrived." But that wasn't what folks around Windsor had in mind.
Schroer found a sandblaster, and the people restoring the caboose went to town removing the years of rust and paint. Soon, though, they started to see stars; and not in a bad way. After sandblasting for awhile, the citizens noticed underneath the years of rusty metal caused by trudging along the clattering tracks in the rain and snow, and coats of paint slapped on by workers - and simply the tincture of time - stars and stripes began to emerge. "As if by magic," the Star article went on. Schroer said, "Well, people started looking at me as if I had St. Vitus' dance. I was just going crazy, doing everything but back flips," he said. "At my age, too," he added.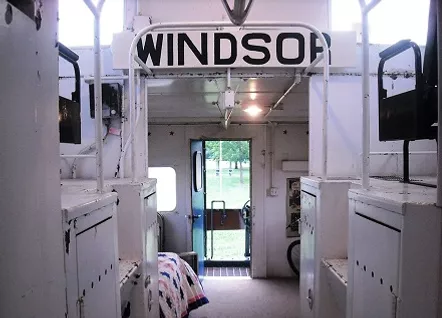 Underneath the paint the residents of Windsor discovered Katy Railroad's contribution to the bicentennial: the caboose was painted white with a huge American flag on each side, with the letters, "Spirit of '76". Adding even more intrigue, the original number of the caboose was discovered to be No. 76, not No. 130, as earlier thought. It was decided that day that the caboose would be repainted in that bicentennial motif, and Schroer set about town, collecting $3,000 for the project.
The Bicentennial Caboose has remained as a tribute to three things: our great nation, Katy's affiliation with Windsor as a whistle stop town, and the citizen's dedication to preserving the past for future generations. The fact that members of our United States military took time to bring the old caboose back to her bicentennial self adds just another layer of rich history between the brush strokes.