Kim's Cabins Nightly Rentals
403 Cherry Street
Windsor, MO 65360
(660)-351-0905
This email address is being protected from spambots. You need JavaScript enabled to view it.
"Comfort at the Crossroads of the Katy and Rock Island Trails"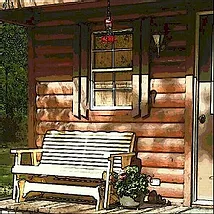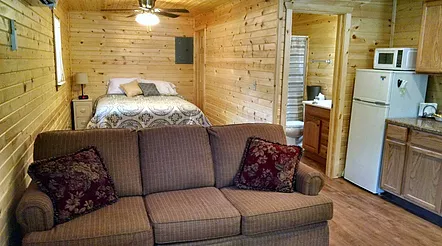 Kim's Cabins offers four modern cabins; each one sleeps four to seven. Each cabin features WiFi, fully equipped kitchens, heat/AC and tub/shower. Enjoy our picnic tables and fire pits, all in a peaceful setting just steps from the Katy and Rock Island Trails in Windsor. Located close to shopping, restaurants, wildlife and Amish community. Whether biking, horseback riding or hiking, come enjoy the quiet life.
5 Star Review: "My girlfriend and I cycled to Windsor from Lee's Summit and spent the night at Kim's Cabins. The cabins are clean, spacious, and just have that "I'm home" feeling. Kim herself couldn't be any better of a host. She is there for you and all of your questions. When you bicycle into a town that you are unfamiliar with. After a long day you don't always want to ride around looking for what you need. Kim was there with answers to all of our questions. We will be back and I strongly recommend you try Kim's Cabins. You will not be disappointed."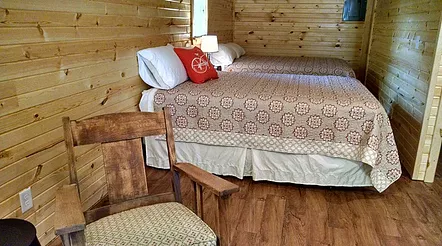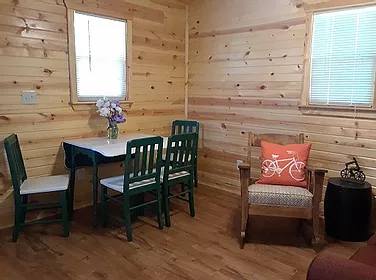 Each spacious cabin has a kitchen table and comfortable living room seating.
5 Star Review: "My family and I just got back home today to Minnesota. We stayed at Kim's Cabins for 4 nights. This place was wonderful! Kim's hospitality was top notch. The cabins are perfect, and she has everything you need for your stay, right down to a can of bug spray (can't believe we forgot ours). I recommend this place to everyone. We aren't bicyclists but it didn't matter, we still had a great, relaxing time."
Bring your group, we can sleep over twenty! Cabin #2 and Cabin #4 each have two queen beds, queen sleeper, plus, we can bring a roll away in!
5 Star Review: "My family of 7 stayed in cabins 1 and 4 last night before sending off a few of our crew on the Katy Trail. Literally right off the trail, secure area for bikes, comfortable cabins are air conditioned, very clean and well stocked with all of the basics. Will most definately stay again when we are out this way. Kim has went out of her way to make her cabins so welcoming and homey. We loved our stay."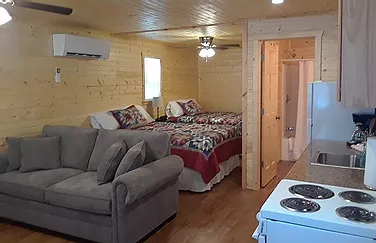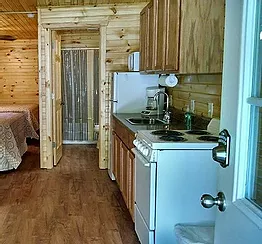 The kitchens are fully supplied with cookware, dishes, utensils...just bring your food.
5 Star Review: "We are a family of 7. 3 teenage boys, kindergarten daughter and a toddler son. We ALL fit inside Cabin #2. Those beds were so comfortable. Nice big bathroom with full shower and tub. The best part besides the well built cabin and all the amenities, including Hot Chocolate (we aren't coffee drinkers) ;) was our hostess- Kim. She aims to please and she accommodated us so well! Brought in a roll away bed, grabbed us the cocoa, sent us a flyer with the towns Easter activities, ect. My family has already asked when our we coming back. It was pretty cold this weekend so we spent most the time in the cabin. We played lots of card games. We came up from Branson to go to Katy Rock Escape Rooms and shop at the Amish stores. We decided to take the whole family with us and just get away this Easter weekend and have some fun and rest. We had both. Love this little town as well."
Guests also love our picnic tables, outdoor seating and fire pits...we even provide the bug spray! Come enjoy the quiet life and create some memories with us!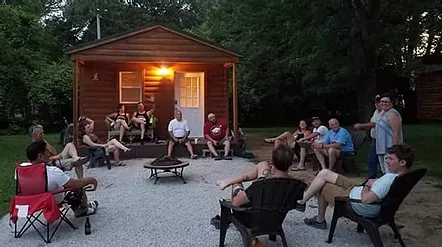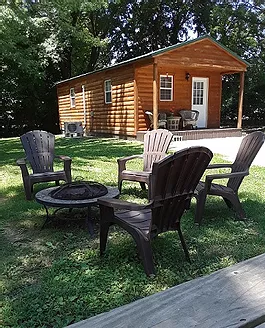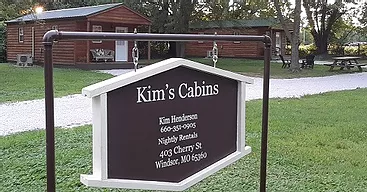 Book your getaway, now! Whether you arrive on a bicycle, a car or a horse, we'll be glad to see you!